West Indies - Statistics and Recap
2295.5 Nautical miles in 9 and half months. Last year we have covered 2162nm in 15 days during our Atlantic Crossing meaning we had some slow sailing.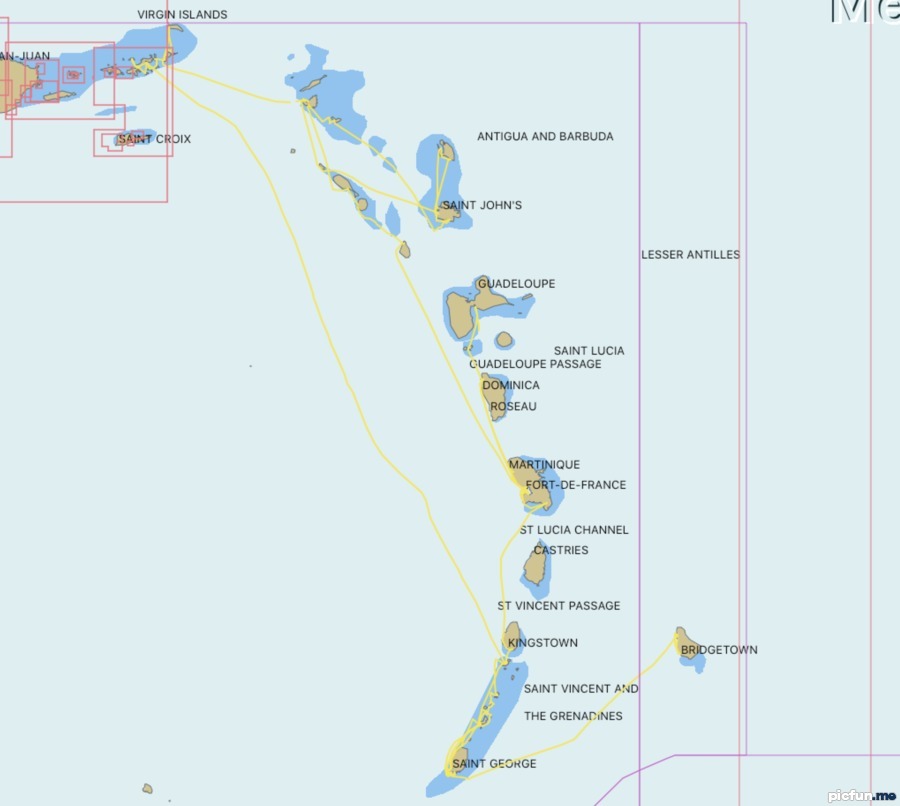 Barbados
12 days of green island, Christmas, snorkeling and a lot of Rum.
Grenada
1.5 months including New Year's celebration. Mainly because I cut my sole and then calf which required 3 stitches in hospital in Carriacou. So no swimming and exploring. Of course we sailed to Carriacou (Tyrell bay is a very nice place to chill in protected anchorage) twice and visited White and Sand islands.
Union island
3 days and celebrating 16th of February as Act of Independence of Lithuania. Also first island I got courage to go kitesurfing.
Tobago Cays
1 night only as we went to met Ambersail there. It is very popular spot for cruisers but it was blowing at the time so we didn't stay long.
Mayerau
4 days there. First we went to Salt Whistle bay. Oh my! It was totally overcrowded. 20 boats, maybe more and the swell was not kind at all. I was there in 2012 and we were 4 boats only!
Saline bay was rolly as well and it was still cozy. Except on last day when French "macho" with 50 feet catamaran somehow managed to drag anchor chain under us and cut some gelcoat on transom.
Canounan
1 night there. Nothing special, just some boardings and burglaries were reported during night time on noonsite.com so we slept locked ourselves inside.
Bequia
6 days there. Aurelija loved it. A lot of people do. I was not so much as water costs 1.3 East Caribbean Dollar per gallon there. Happily it rained and we caught some of it.
St. Vincent
3 days. Anchorage in Blue lagoon with aft anchor and one night at Wallilabou (some parts of Pirates of the Caribbean were shot there).
Martinique
13 days there. Dropped off Arron second time there (who was sailboats hitchhiker at the time) and pick up my father. That was another reason why we spent less time in previous islands.
Drove around by rented car. Visited plenty rum distilleries. Clement was the best so far causing none hangover whatsoever :)
Dominica
4 days there. It was amazing in 2012 and now it is devastated after hurricanes. Still worth a visit.
Les Saintes
4 days until the swell became unbearable and all moorings were occupied. Nice place with French chill vibe.
Guadeloupe
3 days there. Nothing special. But Deshaies is recommended. Spotted humpback and pilot whales there. Sailed back to Martinique to let my father fly back to Europe.
Montserrat
3 days. After last volcano (it is still active) erruption the only anchorage at north is rolly but no regrets. Good snorkeling and tour around the island was enjoyed.
Nevis
11 days. You can't anchor there and moorings are a bit expensive as they want to protect reefs. But we enjoyed it there a lot! Nice poeple, easy to go around.
St. Kitts
2 days in the Marina (first time in 4.5 months) because we lost our dinghy at the dock in Nevis while having dinner (most likely rusty lock was not secured properly...) but couldn't find anything reasonable.
St. Martin
5 days. Got new tender with more power so both of us could plane in it. Still plenty damaged boats in the lagoon.
St. Barth
1 night. Quickly recovered after hurricane. But the vibe I had 2012 during regatta was gone. It felt empty.
Antigua
20 days. Main reason there was my first regatta ever during Antigua Sailing Week on Ambersail. They chose me as navigator and we took second place in our group (first boat was totally in different class...). But I was not enojoying it at the time. Everything was too fast for my cruiser's pace, so much responsibility and I had to look after center back stay and backstays in general because you never know when they will tangle. Would I do it again? At first I was saying no, but now I definitely would say Yes! :)

But also Antigua is very nice place with well protected anchorages and beaches which we enjoyed after the race.
Barbuda
5 days. It is damaged after hurricane but we had wonderfull time there. Coco point beach. Great snorkeling, kitesurfing and all white sand beach around the island. Though you have to bring provisions with you.
Statia
2 nights as it was too rolly. But nice and small dutch island.
St. Martin
Again! 19 days. This time on French side. Mainly because I decided to buy second hand watermaker and it took a while to make it work properly. Still not the best quality but I am getting there! Also it is duty free island with more reasonable prices for provisioning and goods in chandleries.
British Virgin Islands
23 days. After hurricane it reminded me of Greece islands - rocks and bushes (no goats). And all bays are poluted with expensive mooring bouys. It was sometimes hard to find a spot to anchor. But we still enjoyed easy sailing with crystal clear water and marine life.
U.S. Virgin Islands
We went there to get stamps for 1 day by ferry so we could bring our Alka there but tropical storm was forming in the Atlantic ocean so decision was made to jump to south before it reaches central West Indies.
Grenada again
About 3 months, because found a lot of friends there. We visited the rest of the islands as well. Got hauled out - leveled up waterline, changed to semi-ablative Trinidad Pro antifouling (which is great so far!). Done some surfing and went to practice some Tai Chi.
St. Lucia, Saba and Anguilla
Those islands we skipped.
St. Lucia had reputation of being too "American" with high theft rate.
Saba has no good protected anchorages (at the time wind was from ESE). Anguilla has complicated and expensive marine park fees and the only "problem free" anchorage was not that enroute.
comments powered by

Disqus