Or in other words - Alka and I must spend some time seperately :)
It took about 6 weeks to arrange something solid. And I am still not happy about it. Swimming platform still needs to be stronger.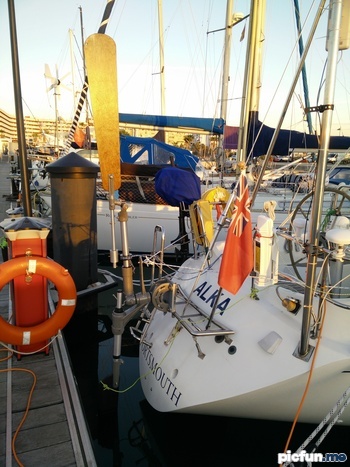 But that will happen when I will get back to her. And I need new water tanks...
And the wish has been made - I am heading towards Sicily and Greece in April.
For now I am doing some programming for fun. When I bought the boat there was Simnet network. I have bought Mcmurdo M10 AIS class B transponder and connected NMEA2000 and Simnet networks together via adapter cable. </br>As my Simrad CR44 chartplotter died I still can seen GPS data (and SOG/COG) from AIS to Simrad AC10 Autopilot computer and displays. </br>And I also have Nmea2000 to USB adapter. Then I connected everything to my Raspberry PI 2. Which also is WI-FI hotspot.That means I can receive all data on my laptops, tablets and phones.
Of course, not everything is that easy. But sometimes there comes open-source in help. I have modified some code in Canboatand now I can see even how many degrees the rudder is turned on OpenCPN.
The next challenge is to write adapter to send Waypoint's data to autopilot and maybe to controll the rudder via WI-FI :)
Christmas and New Year in Lithuania. A little bit wet. But should be good. I already got my first presents - some books by Rimtautas Rimšas. Probably the only fiction about sailing in my native language. Exciting!
Have fun! :)