It is not my idea as you can see but I like it. Inspiring destination :)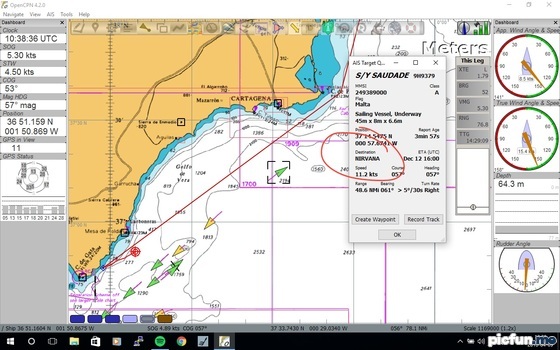 I can't believe I am so happy about night sailing but it is so awesome! It gives you about 10 hours (during this time of year) of extra sailing and with good wind extra 50 nautical miles. 20-30 minute naps aren't perfect but eventually you have get used to it when you get tired enough. And I have done only 30 hours max so everything is still ahead. And hopefully the wind will be better because flapping sails do not let to fall asleep quickly!
I would have done Gibraltar - Ibiza in one week but Depth tranducer got me really annoyed so decided to stop in Alicante and to buy a new one DST800 which would go into Speed's slot. I have lost some features of old stuff but at least now I have stable depth and water temperature (which hasn't been working from the time I bought the boat).
And also windvane is quite a bit of releaf. It works! There is boring video about it.
</br> </br>
Some under water stuff which somehow had to go on seperate video.
</br> </br>
And the whole trip story. Enjoy!
</br> </br>
As for me I always have some maintenance work. Or maybe just reading a book during siesta time... Until Ibiza party day will come :) And then more sailing will happen. Greece doesn't look that far anymore...
Or is sailing already the Nirvana?