So I took off the anchor roller.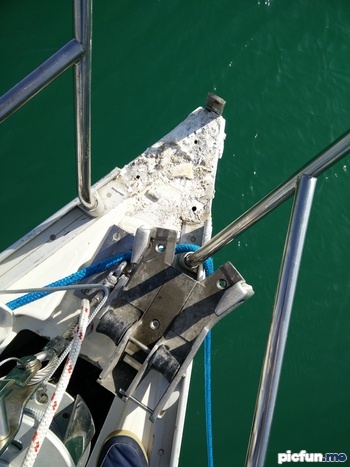 And I found stainless steel and alloy welder in Gibraltar. It took ages to catch him or answer the phone. But finally I got it.
Everything seemed alright as I took if off with wooden hammer. I checked it and it seemded it can go back easly so just neede to put some Sikaflex...
Unfortunately... Toe rails were too narrow.
After an hour or so of bringing various tools and trying to spread them I finally gave up and decided to take off the front plate as horizontally anchor roller should get back to place without a problem.
Unfortunately... Top nut was put without a washer and got inside the fiberglass...
Happily, a lot of wd-40 and help from neighbours (it is not a one-man job) it was off...
But this time it needs to be done properly. I have completed my first fiberglass fix! And now everything is in their right places.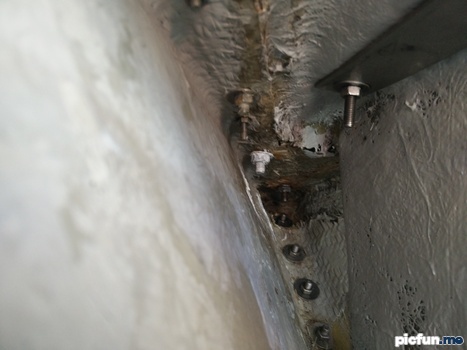 After two days of getting into and out the anchor locker I felt so much pain in my muscles like I have badly over exercised first day in a gym.
Putting back the forestay was not an easy task as well as I was too lazy to take of genoa before starting the work. But once again, with help from neighbours it was accomplished.
Though I still decided to take it off as was planning to put some extra paches and it seemed that some threads are wearing off.
I am so glad I did it.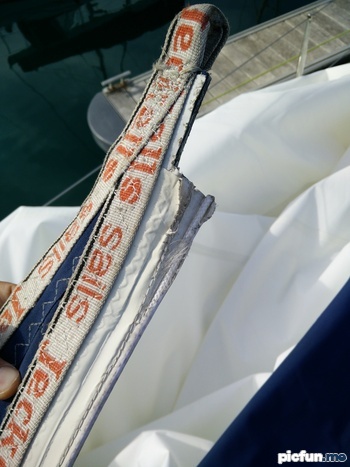 Top shackle was two turns away from dropping the sail down. It would have been interesting accident in the middle of the sea.
Of course I found more problems - torn luff track as in the photo. And some other holes and spots that needs to be patched.
After retrieving intelligence from neighbours I have nearly arranged the fixes. Maybe next week it will be done.
And windvane...
Apparently the custom made swimming platform I got with it was not that satisfying.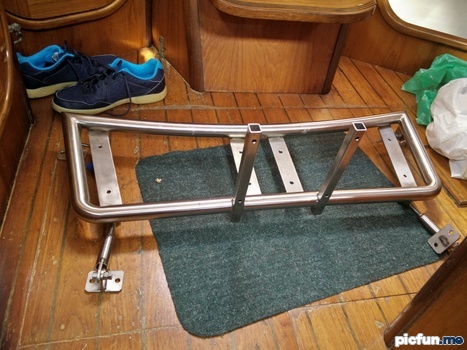 Previous welder had to take of middle plate and put two a little bit spreaded because the middle is for backstay to go through.
And it is shorter than I have asked and supporting poles with holes for windvane bracket were made it to put it horizontaly instead of verticaly... @#$?
So I decided to make it properly and found a welder on Spanish side. Communication with gestures :) I am making conclusions and bought some Spanish audio lessons :)
Obviously they had to order new material and it is not sold by 16cm. So it will cost a bit. And next week there are holidays on Monday and Tuesday. That means no results until next Thursday.
Also I did some fixes on leaking flexible water tanks but it seems it is leaking through old threads in many places. Great! Either fixing those or trying to find someone to make custom ones...
So this is my life and my current problems. More cycling than doing fixes and spending loads of money. Canary islands are still so far away and it might be I will stay here over the winter. Boring! And it is too cold with just shorts and T-shirst already...
Except I went kitesuring to Tarifa! I want to do more of that.
In the mean time... Let's try to check out lower priority TODO list for Alka. And maybe to do some programming instead of watching TV shows and movies? :)