Had to climb into top of the mast and change VHF antenna. Because AIS sometimes doesn't work and shows only small radius of boats and sometimes I can see boats 50nm away. Weird. So first test was to change antenna. Though no significant changes I can see... At least the view was amazing :)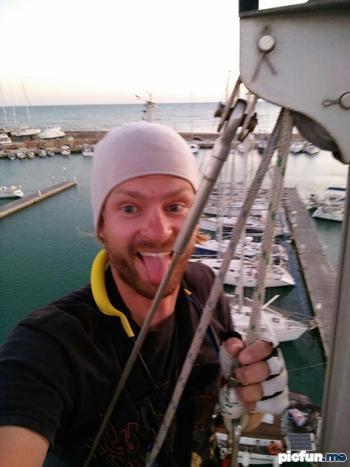 Marina di Ragusa is a nice place. But probably only for long term off season as for Alka it is €41/day which is a lot! Especially in low season which is May, but the marina is nearly empty.
There I had shameful mooring experience. But camera was on, so enjoy.

No damage but conclusions were made and hopefully no such mistakes in the future.
Time is coming to sail towards Greece and dissapear between islands.
3-4 days of sailing, beeing alone in the middle of nowhere, listening to music, reading books, cooking, fixing, sleeping as much as situation lets.
And no bloody mosquitoes!
See you on the other side of the sea. ;)